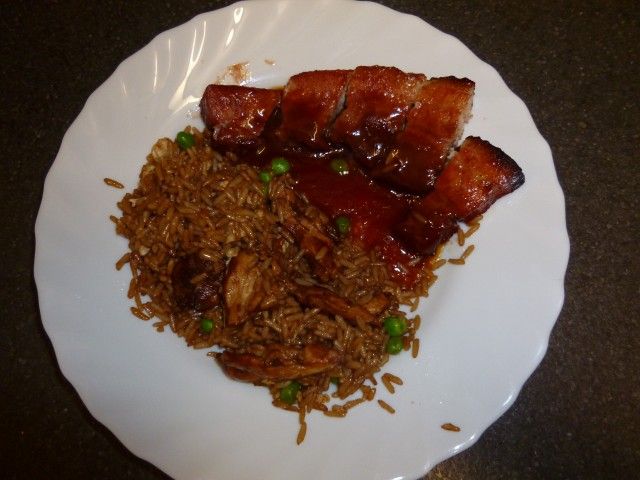 Char Sui pork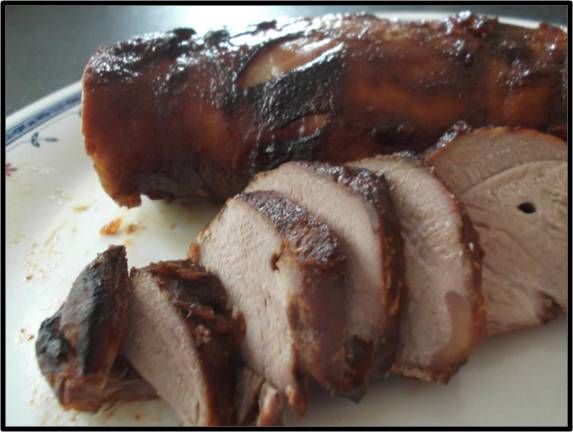 1/2 jar hoi sin sauce
1 tbsp yellow bean sauce
2 tbsp soy sauce
150g sugar
1 tsp salt
1 tsp MSG
1 tsp five spice
1 tbsp Rice wine or shaoxing
1 tbsp red food color
2 finely diced cloves of garlic
1" piece of grated ginger root
Marinate meat for 2 - 6 hours.
Roast at 200c for 10 mins, flip and continue roasting for another 10 mins, then turn heat down to 180c for 15min.
Rest for 30 minutes before cutting.If roasting lean meat 220c 18-20 mins, turning halfway
You can simmer the left over marinade and reduce down to make a bbq style sauce

BBQ Sauce
1 Dstsp of Hoi Sin sauce
2 Tblsp of ketchup
2 Tblsp of sugar
1 tsp of Honey
1 Tsp of chinese 5 spice
1 tsp of minced garlic
Pork stock to consistency
Pinch of MSG
Method
Heat all ingredients in a pan and reduce until desired consistency.
Chicken Fried Rice
125g white rice
2 chicken thighs
frozen peas
spring onions
1 egg beaten
rice wine vinegar
dark soy sauce
light soy sauce
sunflower oil
sessame oil
salt
Preperation
Add boiling water, 1 Tblsp dark soy sauce & 1/2 tsp salt to rice and simmer until cooked (10-12 minutes)
Sieve rice and spread cooked rice out on baking tray to dry for 1-2 hrs
Cut chicken in to strips and marinade for 1 hour in:
1 Tblsp rice wine vinegar
1 Tblsp of light soy sauce
1 Tblsp of dark soy sauce
Boil chicken in water for 5-6 minutes until cooked
Add boiling water to frozen peas and leave for 5 minutes to soften.
slice spring onion in to 1 cm chunks
Method
Add sunflower oil to pan and heat then add egg.
Stir vigorously until egg is cooked then add rice, peas, onion and chicken.
Add 1-2 Tblsp of dark soy sauce and mix in.
Add a splash of water so the flavours steam through and ensure all food is heated through.
Add 1 tsp of sesame oil and cook for 1 minute and serve.