In a triumph of hope over experience I have decided to brew a beer today for the hot summery weather of July/August

hence the beer name Dog Days (the slight twist is our Irish Terrier is called Daisy, inevitably shortened to Days). I am experimenting today with 2 things brew length & timings. My brew lengths are restricted by FV capacity (30 litres to the brim, so effectively 25 in bottle if I get 27 into it). So I am going to brew 35 litres and split the wort between two fermenters relying on my aquarium heater and brew fridge for the two brews. 20 litres destined to keg and 15 to bottle. The other part of the experiment is time. I am going to alter my usual 90 minute mash & boil to 60 for both as what I have read is suggesting little more conversion for longer mash times and little more hop utilisation for 90 vs 60 for the boil. I am not into heavily hopped beers and prefer lower gravity beers so high hopping ratios isn't important to me. Interested in others experience of shorter times and whether you have stuck with it or gone back to longer & why.
Recipe is this:
Batch Size (fermenter): 35.00
Boil Size: 43.67 l
Boil Time: 60 min
End of Boil Volume 38.17 l Brewhouse Efficiency: 75.00 %
Final Bottling Volume: 34.00 l Est Mash Efficiency 78.6
Ingredients
Amt Name Type # %/IBU
6.000 kg Pale Malt, Maris Otter (5.9 EBC) 86.3 %
0.500 kg Caramalt (40.0 EBC) 7.2 %
0.250 kg Pale Chocolate Malt (600.0 EBC) 3.6 %
0.100 kg Corn, Flaked (2.6 EBC) 1.4 %
0.100 kg Wheat Malt (3.0 EBC) 1.4 %
30.00 g Target [10.60 %] - Boil 60.0 min 22.4 IBUs
1.40 tsp Protafloc (Boil 15.0 mins)
30.00 g Goldings, East Kent [7.20 %] - Boil 10.0 min 5.9 IBUs
1.0 pkg Fat Cat Yeast (Fat Cat Brewery #Charles Wells Brewery)
40.00 g Goldings, East Kent [7.20 %] - Dry Hop 2.0 Days 0.0 IBUs
9.00 mg Kwik Klear (Bottling 0.0 mins) Fining
Will follow up with pics and observations later.
UPDATE
Right brew day over so we will start with the cock up list first.
Forgot to plug the HLT into the temp controller and wondered why it was up to 96c and not the 80c I set it for

Decided to dump 20 litres into the HLT to try and get temp down quicker for strike water, then realised I hadn't put the salts in the HLT

. So pumped it back up to the HLT before once again dumping it back into the HLT. Followed this up by plugging the heater in to the cool side etc and noticed that instead of rising to temp for fermenting it was down to 5c

So start again:
Action stations: Recipe steps, salt calcs, brew day sheet.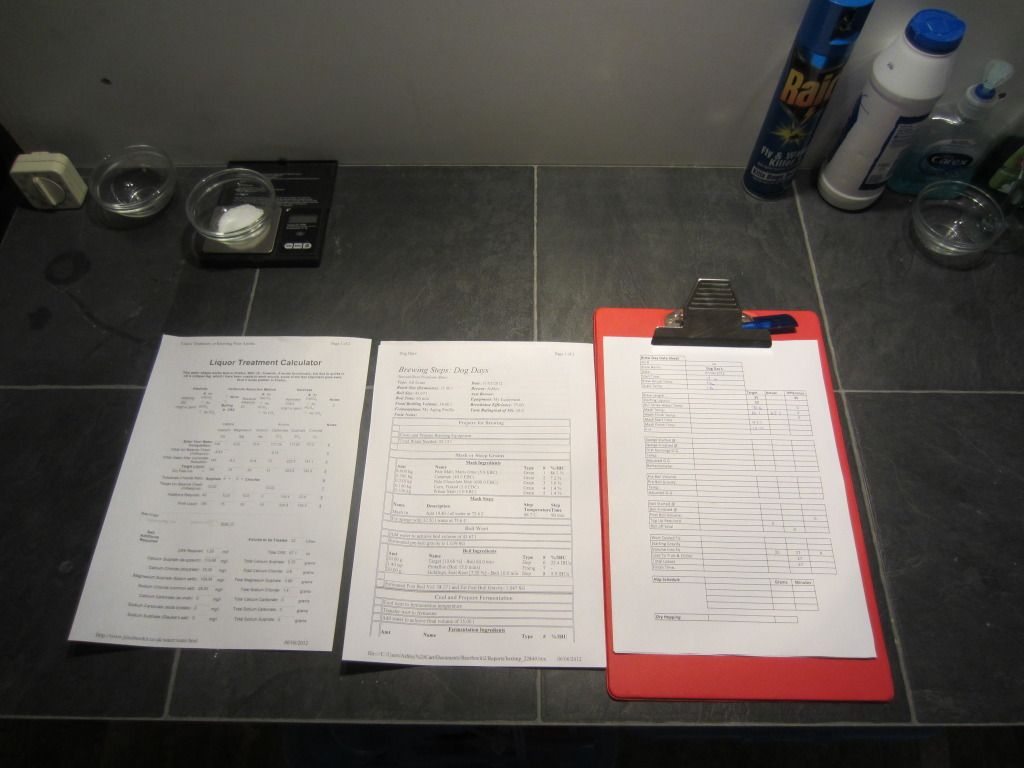 Grain bill: Not used flaked maize before and have replaced the usual Torry with wheat malt.
Had some issues with mash in temps as the thermometer kept registering different temps and took awhile to settle down.
Depending where I measure it is either higher or slightly lower than the original measurement

Sparge went well and got exact amount into boiler

Simple hops 60 mins and 10 mins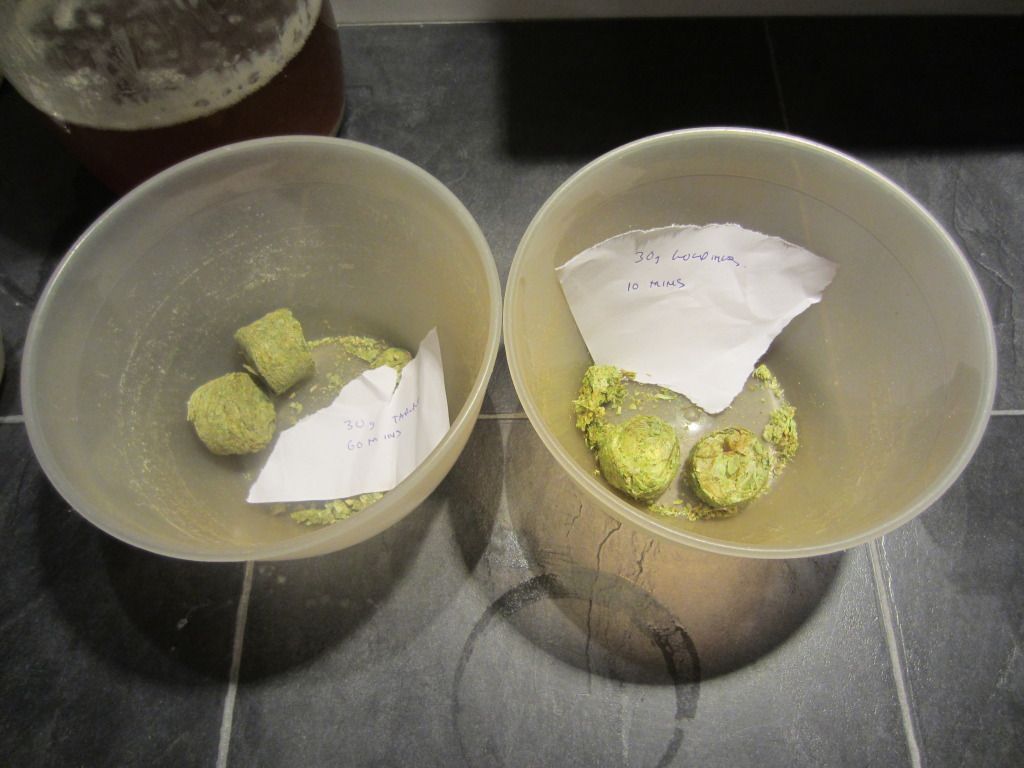 We're off. Double elements all the way for 60 minutes.
First runnings: Dark and clear for saying I did not recirc just 1/2 jug to get grain out of the spout.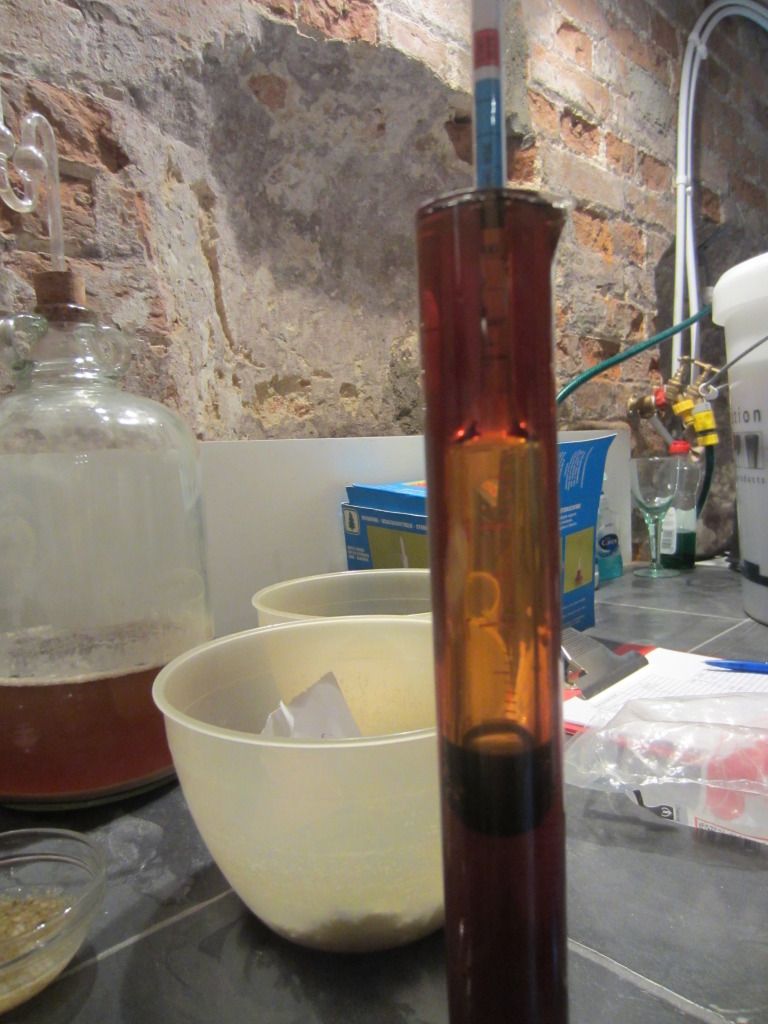 I really like Protafloc and have it in granules (rehydrated), much easier than tablets. One level tsp does it every time after 1/2 hour wait after switch off.
Starter was drained of liquid and split between two fermenters one with 20l the othe 15l.
Disappointed to get only 33l so liqoured back by 2 litres. OG was 1.050 with expected 1.047 so am probably about right. What with bottling 41 pints as well it was 5 hours well spent rather than the usual 6. If the beer turns out to be a good one I may adopt this strategy on a regular basis.