After getting frustrated with the amount of bottle that need washing for a batch. Over a few pints the dream of a bottle washer was designed. After many evenings work we have got something which we think works.
Parts:-
15mm copper tube (left overs from building project)
22mm copper tube (left overs from building project)
10m coil of 8mm copper tube
30 x 15x10x15 Tee peices
2 x 22mm elbow
2 x 15mm elbow
3 x 22mm Tee
2 x 15x22 reducer
1 x Large plastic box
1 x Submersible Pump - I got one that will deliver 255L / min which we reckoned would be plenty of flow to wash 30 bottles at a time.
The original Plan was to fit the bottles and the pump inside the large plastic box to make the unit self contained (This changed as we went along). We worked out that in the box we had we could get 30 bottles in (5 x 6 layout)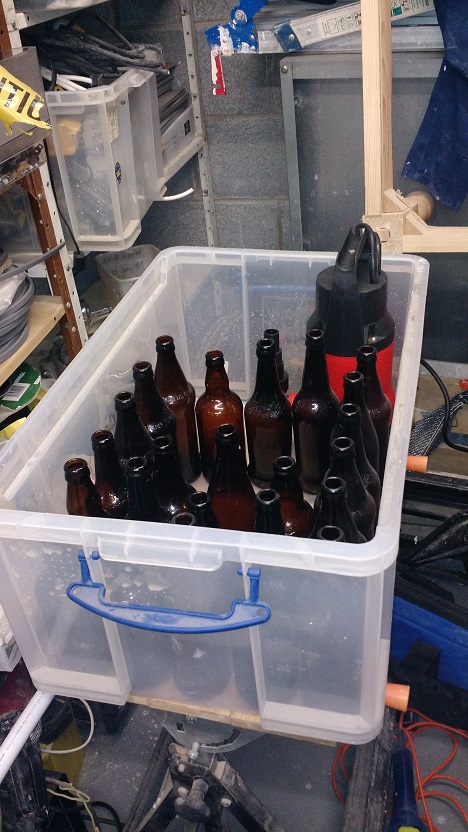 Building of the inlet side (length of 22mm copper with Tee for each arm and elbow at the end. There is a tee also for the inlet from the pump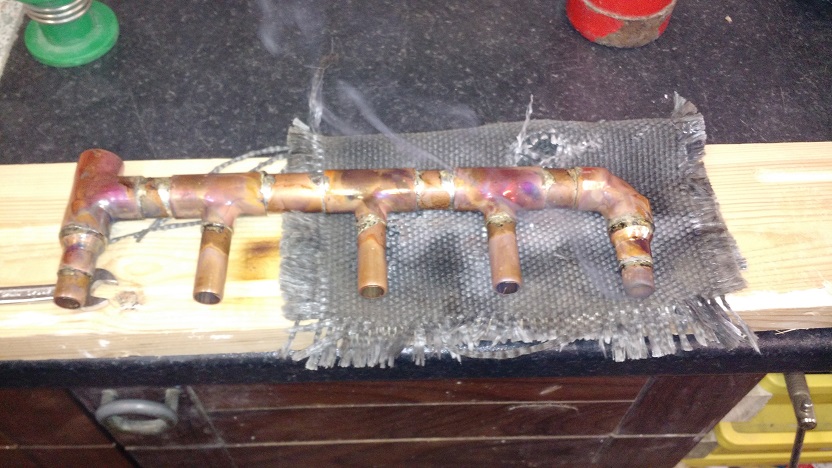 Building the 1st of the 5 bottle washing sections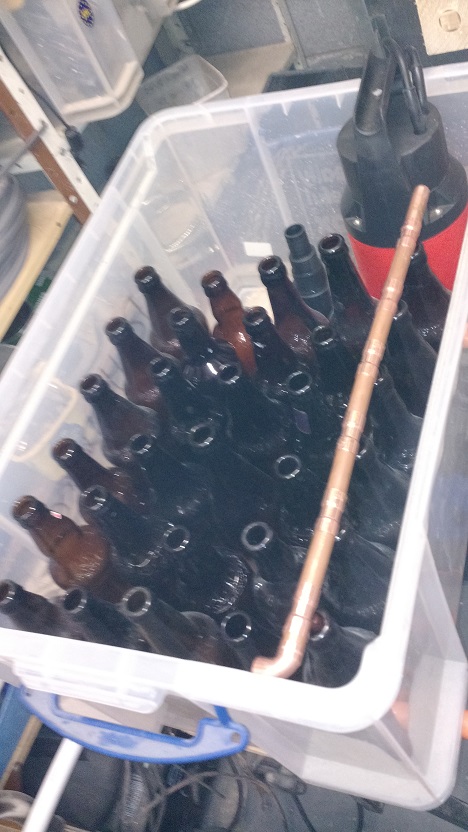 Putting all 5 bottle washing sections together along with a return end.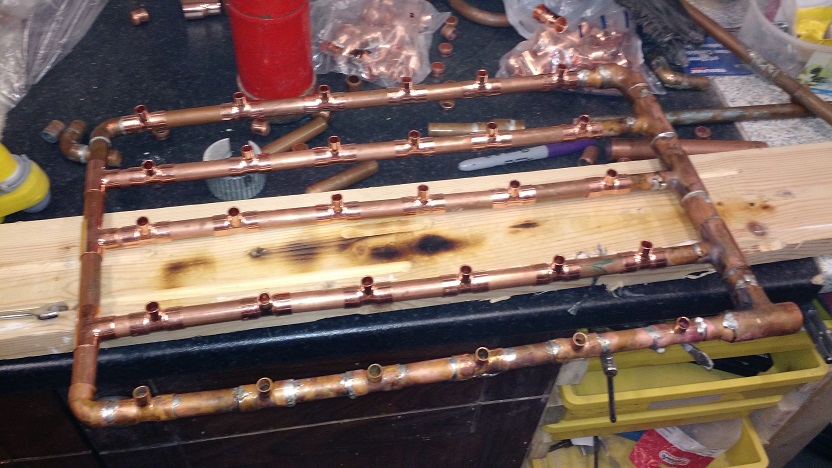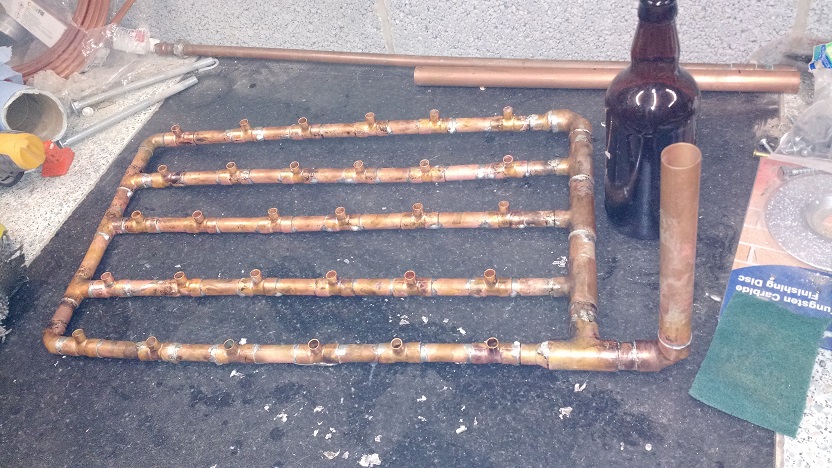 Fitting the 30 "wash jets" these are made from 200mm lengths of 8mm copper tube soldered into the Tee's in the 5 bottle washing sections. These were then pinched in the middle to give 2 jets of water.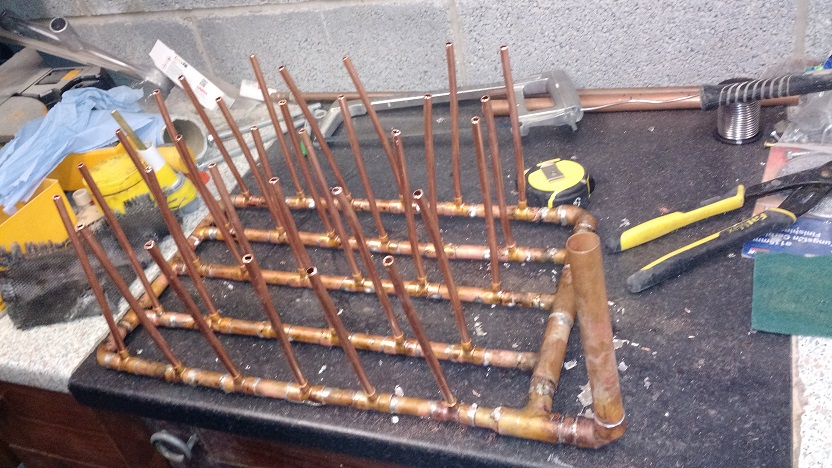 The 1st Test run. We found that the amount of water needed to submerse the pump for it to run made the water level too high in the box this ment the bottles didn't drain. So we made a change of plan, we fitted 5 x 25mm outlets on the side of the box and empty the box into the deep pot sink in the brewery and put the pump into the sink. this means the bottles drain out. We needed the 5 outlets to drain the box at the same rate as it was filling up!
Here you should be able to see how the bottle jets have been pinched in the middle leave 2 side jets in the copper tube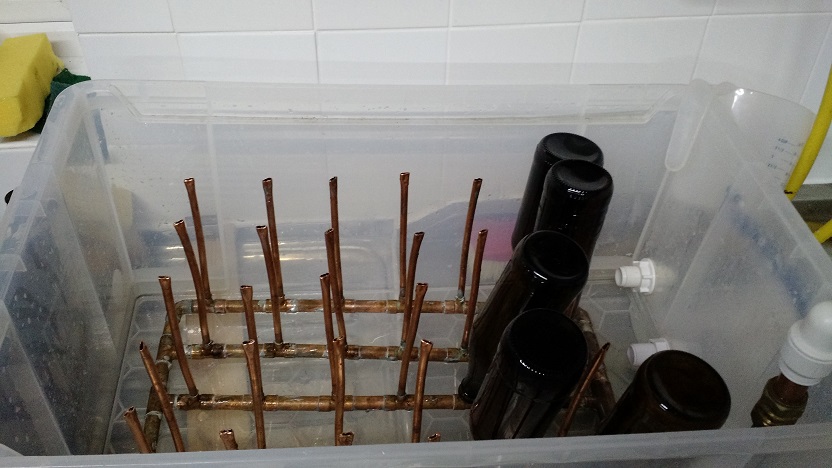 We then wanted to also rinse the outsides of the bottles, so we have put a Tee in 22mm feeder copper tube and a ball valve and fitted an old shower head so we can give the outsides a rince.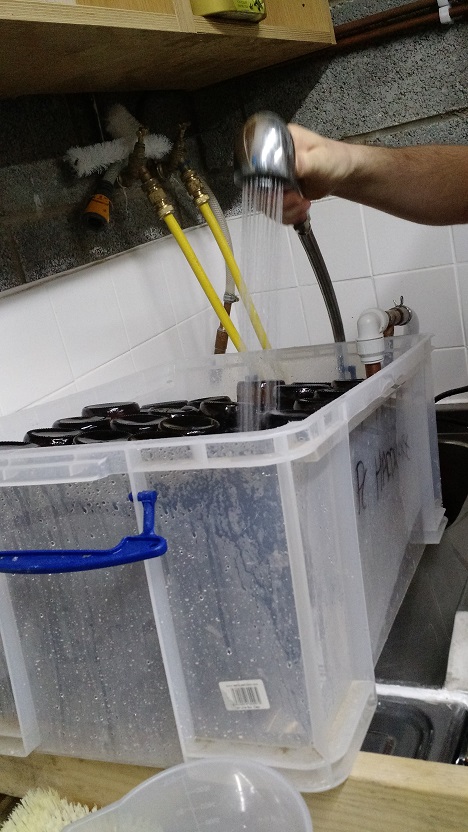 Clean bottles. Washed with Oxi Clean for about 10 mins seems to shift everything. We then give them a check and then steralised them ready for fillting. Saving loads of work with bottle brusings as you can get on with something else while the bottles are washing.