I am about to spend a bit more time on my fermentation fridge, fitting a Brewpi and generally tidying it up.
I know that the answer to "can I drill here?" questions is always "it depends", but hopefully there might be some general rules that can help..
My fridge is an old Frigidaire Larder Elite. Just one big fridge section with the standard compressor hump at the bottom.
The first thing I want to do is drill into the back of the vertical part of the compressor hump. Just a couple of small holes for shallow SSR mounting screws. My guess is that wouldn't be any gubbins in this area - it would be fairly hard to work any cooling coils around the multiple bends required, for little return. This area also does not seem to get cold to the touch when the fridge is on. There doesn't seem to be an easy way to check for sure, as the panel is not obviously removable. Worth the risk?
Here's a pic - also, just out of curiosity, any ideas what the white cylinder bolted at top-right is? It has a live/neutral just dangling. I thought maybe it was a spare capacitor, but then I noticed the black wire connecting up to the thermostat area. Ballast for an optional fluoro? I'll leave it well alone in any case. I'm planning to go through the drip hole for fan/heater connections, but wouldn't be totally averse to drilling straight through if that was safe.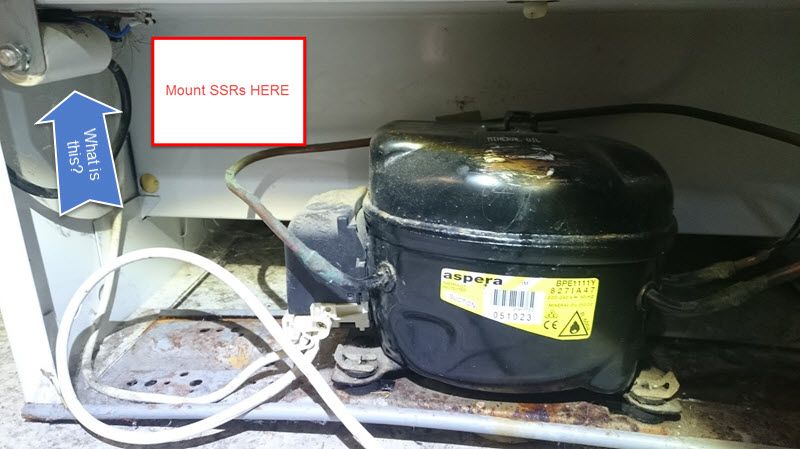 The second question is about drilling through the top of the fridge for my thermometers. I could get extensions for them and go down the back and through the bottom, but it would be alot easier to go through the top. Again, this area doesn't appear to be directly cooled - in fact, the only area that does is the top two thirds of the back, and in the image below you can just make out the discolouration caused by the repeated cooling in one area (the straight line about 2/3 down - its not a shadow):